World Languages Podcasting
Hi, thanks for visiting.
World Languages Podcasting has discontinued its podcast series and transcript sales.
Thankyou to everyone who supported us over the years.
We have made the complete french and italian podcasts and their transcripts available at a discount below.
Listen to podcast previews on itunes: Italian Podcast, French podcast.
Download complete podcast and transcript set
If you would like to download the complete set of Italian or French podcasts (Mp3 format) and transcripts they are available below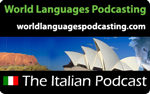 Italian
Includes full podcasts 1 to 11 and transcripts for podcasts 1 to 7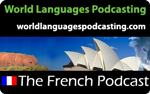 French
Includes full podcasts 1 to 10 and transcripts for podcasts 1 to 10